While the peak of the holiday season is still months away, believe it or not, it's already time to plan your company holiday party. Employees look forward to the annual holiday party all year long, so they'll be banking on you to make it kickass – and nobody wants the reputation of the person who threw a lame party. Imagine your typical company event: Hapless chafing dishes filled with lukewarm meatballs, and a store-bought dessert table that goes untouched. Sounds familiar, right?
Instead, take your holiday party to the next level with Off the Grid Catering. That's right, we're more than just markets and food trucks parked outside your venue – we cater all sorts of events inside, too! And we're here to help you wow all of your guests and be the holiday party hero!

Hundreds of our food and beverage creators are ready to pull up and set up interior stations to serve a truly interactive food experience that will suit your company and venue's needs. The appeal of our tasty, unique street food paired with the warmth of our catering amenities is sure to make for the perfect holiday event.
We Encourage Breaking Holiday Traditions
Now, most people don't exactly associate burritos with a winter wonderland – but we say why not? Rather than serving up the same old traditional dishes at your company event, you could serve an eccentric San Francisco staple like Señor Sisig's taco with your guest's choice of pork, chicken or tofu on a corn tortilla with tons of options for toppings.

If we're being honest, no traditional caterer can compete with the quality and uniqueness that the vast selection of our Off the Grid Catering vendors can provide.
Serve Up a Visual Feast, Too
Our interior catering services are completely flexible and can be customized to fit the exact vision of your event. Whether you want to serve a multiple course tasting experience, or feed thousands of employees fast, we are prepared to handle it. Food and drink can be stationary or passed, and we can even make your event space feel like a holiday night market complete with twinkling globe lights, wooden bar façades and custom designed signage.

Couple that cozy atmosphere with one of our delicious dessert vendors and you'll be sure that every guest has all of the holiday feels. Serve up eggnog and peppermint flavored pops from Frozen Kuhsterd or a hot cocoa cotton candy from Sugar & Spun. Not only are these sweet treats totally Instagram-able, but they are sure to fill your entire event space with a sugary holiday aroma, too.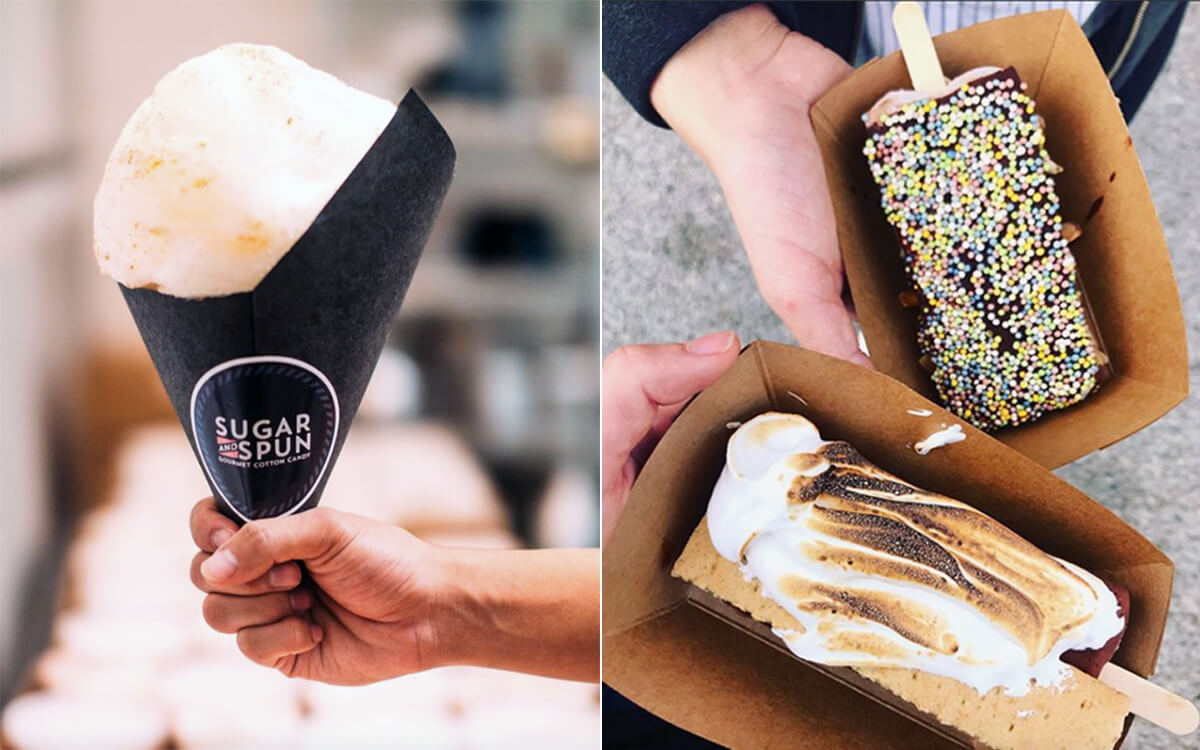 'Tis the Season to Get Lit (Responsibly)
Quite possibly the best part about Off the Grid Catering are the options available from our favorite drink vendor, Quality Beverage Company – because what good is a holiday party without a few cocktails?
Cheers to another successful year with your work family with some hot spiced wine infused with cinnamon, cloves and orange, or a festive pomegranate Prosecco punch. Or what about a bourbon, ginger beer and cranberry combo garnished with fresh mint? The holiday cocktail possibilities are endless and sure to get everyone in the holiday spirit.
Drooling from all of our ideas above? Us too! Give us a shout and let us help you build the perfect (and delicious) holiday event from start to finish. Our catering offerings start at $3,500 for 100 people served.