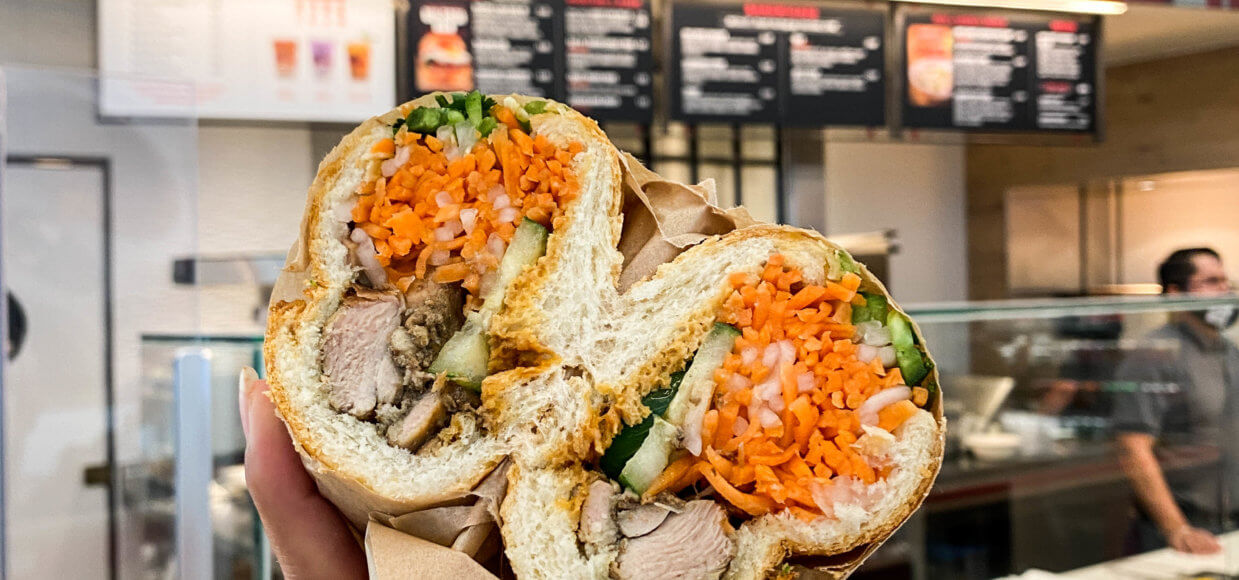 Eating airport food is a usually a hit or miss experience—unless you're in San Francisco.
The San Francisco Airport is the Bay Area's biggest airport, offering non-stop connections to and from 86 US cities all around the boarding area. It's a huge, busting place that can be pretty overwhelming to navigate, especially while hungry and rushing to catch a flight. 
San Francisco is a city known for its food scene and the options at the airport prove it. From authentic banh mi sandwiches and fresh sushi to homestyle Filipino cuisine and vegan American fare, SFO doesn't disappoint.
Here's our roundup of the best places to eat and drink at SFO
1) Goldilocks – Terminal 1, near Gate B18
This Filipino eatery uses family signature recipes for their authentic Filipino food. They offer a la carte entrees, but also have a menu designed especially for the traveler, with combo meals that come with your choice of base: white rice, garlic fried rice, or pancit bihon rice noodles, 1-3 entrees, and choice of side which can be the always popular lumpia (similar to an eggroll), chicken empanadas, siaomai dumplings, ukoy vegetable fritters, or carioca (caramelized mochi balls). 
Entrees include a savory beef kaldereta with potatoes, carrots and stewed bell peppers; pork bicol express with a spicy, umami coconut milk broth; and a savory arroz caldo soup. Also on the menu are craft, customizable boba drinks, 40+ wines, craft beers and cocktails to-go. 
What to get?
The chicken adobo (the unofficial dish of the Philippines) is super flavorful combining all the flavors of vinegar, soy sauce and lots of garlic with tender, boneless, skinless chicken. The pancit bihon rice noodles is another popular dish that features julienned vegetables, chicken and soy sauce in a flavorful noodle dish. 
2) Bun Mee – Terminal 3, F Gates, Food Court near Gates F11 to F22
This is no regular deli. Known for the authentic banh mi sandwiches, head to Bun Mee for modern Vietnamese cuisine that includes a selection of pho noodle soups, fresh and fried spring rolls, rice and noodle bowls and more. There are even two breakfast options that include the bacon and egg banh mi and the bulgogi bun with grilled pork and kimchi. 
From comforting options best for when you have time to sit such as Mary's free range chicken pho soup to the sandwiches that built the eatery, expect flavorful cuisine complete with all the tasty complexities of Vietnamese food. Think five spice, lemongrass, herbs and Nuoc Cham, the sweet and tangy addicting dipping sauce. 
What to get?
Go for a classic banh mi sandwich. These babies are hearty. The fresh bun is packed with meats like lemongrass pork and grilled five-spice chicken; a mix of onion, carrot, daikon, cucumber, cilantro and jalapenos; and creamy spiced mayo. It's the perfect on-the-go meal.
3) Off The Grid Food Trucks – Terminal 1, departures level
The newest dining experience at the airport is fueled by Off The Grid. This is your pre-security option Monday-Friday from 11am – 2pm, two food trucks will be stationed by the pull out parking area, curbside. The trucks will be rotating, so travelers can check the OTG website to see which will be stationed the day of travel. There are so many great things about grab-and-go food trucks, but for this particular case the food comes out FAST! It's truly the perfect meal option, especially considering there's usually no wait time, and little to no lines. It's super convenient and supports local businesses!
What to Get?
It depends on which trucks are at SFO that day. Two rotating trucks featured are Bob Cha SF or Wok Kitchen Truck. Korean Bob Cha is a Korean fusion truck that sells several incredibly delicious items with your choice of meat. That includes Spicy Pork, BBQ Chicken, Bulgogi* Beef, Korean Fried Tofu, and Korean Fried Chicken. Popular items include the super crispy Korean Fried Chicken cooked in a Korean style with sweet, spicy, and savory sauce; the Bobcha Burrito with Kimchi rice, lettuce, sour cream, cheese, pico de gallo, kimchi, a choice of protein with smoky orange sauce in a tomato tortilla; and the Bobcha Tots with Bulgogi beef, sautéed kimchi, cheddar and Monterey jack cheese with magic and hot sauce over crispy tater tots.
Wok Kitchen Truck features handmade dim sum and wok cooked dishes. The Wok selection offers popular Chinese food favorites like the deep fried General Chicken with a thick garlic, ginger and honey sauce and the Black Bean Chicken with onion, peppers and spices. The real draw, however, is the mix and match dim-sum combo offer. Choose from BBQ pork buns, shrimp dumplings, lotus wrapped sticky rice, potstickers and more.
4) Amy's Drive Thru – Terminal 1, B Gates, near Gate B6
You can't miss Amy's Drive Thru's highly Instagrammable cafe with its bright signage and wall art. It's a fun, sustainable eatery that will remind you of a classic American diner, only the food offered is organic, vegan and veggie-driven. It can also be made gluten free if you ask. It's like healthy fast food. Options include cheesy vegan mac and cheese, old fashioned milkshakes, organic chili and fries, organic soups like the chunky tomato bisque, and of course, organic "burgers."
What to Get?
I'm a meat eater, so I'm usually skeptical about vegetable-based patties. But The Amy, which is a stacked double veggie patty "burger" with double cheese, lettuce, tomato, onion, pickle, topped with secret sauce, is delicious. Get it if you're looking for a healthier alternative to a greasy meat burger.
5) Napa Farms Market – Terminal 2 and International Terminal G San Francisco International Airport
Culinary aficionados, foodies and people with a special place in their heart for farm fresh food, will love Napa Farms Market. This artisan marketplace celebrates the best of Northern California's agricultural bounty and highlights some of the area's top purveyors. There are so many delicious options at the "farm-to-flight" specialty marketplace. 
There's an entire cheese section featuring artisan cheese made from small-scale producers via Cow Girl Creamery. There's a literal wall of bottles of wine. They serve incredible sandwiches that include the muffaletta with Italian meats; Napa Cuban with roasted pork; and more. Food Network Star, Tyler Florence, also has an eatery inside the marketplace making fresh pizzas like the Quattro Formaggi Pizza with white bechamel cheese sauce; and organic roasted chicken and slow roasted pork shoulder. 
From culinary gifts like packaged smoked salmon and handcrafted soaps to artisanal chocolates and Kara's cupcakes to a granola bar and fabulous pastries, there's something for everyone. 
What to Get?
Everything. The pizzas, sandwiches, cheeses, charcuterie platters… you can't go wrong and the options are endless. I personally love to grab a fresh croissant before I fly and this is where to do it.
6) Tomokazu – International Terminal G, near Gate G4
This is an upscale Japanese eatery featuring fresh sushi, sashimi and nigiri prepared right in front of you. The menu also offers rice bowl options that include katsu (deep fried and breaded meat), unagi (eel), curries and more; and ramen and udon bowls that include the House Ramen Tonkotsu Style, with pork chashu; and teriyaki. It's a chic, modern spot for the traveller looking for expertly crafted Japanese fare. The menu is extensive and impressive, also providing many pre-packaged sushi options for people in a rush.That said, the sit down experience is worth it if you have time.
What to Get?
The sushi is prepared on a counter as you walk into the restaurant, so if you're in the mood for quality sushi, this is ideal. They have all sorts of fish options, from salmon and hamachi to uni (sea urchin) and tako (octopus). Popular items are the specialty rolls like the rainbow roll with salmon, tuna, snapper, yellowtail, and avocado or the Spider Roll with soft shell crab.
7) Vino Volo – Terminal 2, D Gates, Retail Street
Need to wind down with a glass or two of wine? Vino Volo is the right spot for you. This wine specialty shop offers a huge selection of wines, both by the glass and bottle. You can enjoy a wine tasting and bites alongside the expertise of the people who work there. Whether you want a full bodied red or mimosa, they've got you covered.
What to Get?
Definitely enjoy a glass of wine with a charcuterie and cheese plate. Vino Volo offers a nice selection of small plates that include olives, almonds, salumi and more that pair excellently with the wine they pour.
8) Farmerbrown – Terminal 2 near Gate C4
Bringing soul food to the airport is the San Francisco institution, Farmerbrown. Though their brick and mortar spots are now shuttered in the Tenderloin, the eatery is alive and well at SFO. If you're in the mood for crispy Southern-style chicken and comfort food, get ready to eat. Think mac and cheese, cornbread, fries, waffles and more.
What to Get?
Get the rich, cheesy mac and cheese and a fried chicken combo meal, which comes with cornbread and slaw. Wash it down with a bourbon sweet tea!
9) San Francisco Giants Club House – Terminal Terminal 3, F Gates, near Gate F13
Sports fans will love the San Francisco Giants Club House which is decorated with all sorts of Giants memorabilia from jerseys and bats to baseballs and signatures. The restaurant and bar features a wrap-around digital wall showcasing Giants games, sports, news, movies and more so it's a great spot to wait for your flight.
The  sustainable, locally-sourced menu features the unique offerings that are actually sold at Oracle Park such as Papas Con Ajo (garlic fries), Dungeness crab cake sliders and Lou Seal's (The Giants mascot) favorite Mexican-style tacos. There's a selection of sandwiches like the McCovery Cove sandwich with ahi tuna and the A Double Play, which is a huge double patty cheeseburger with Hobb's applewood smoked bacon on toasted brioche and hot dogs.
What to Get?
The Lou Seal's Favorite Tacos with fried shrimp, shredded cabbage, topped with an avocado bacon jalapeño aioli is delicious and garlic fries are always satisfying. The garlic fries are crispy hand cut shoestring fries, tossed in a smoky savory spice blend with chopped parsley and Gilroy garlic, so it's the real deal. If seafood isn't your thing you can't go wrong with a burger or classic hot dog like the Jerry Garcia Dog topped with turkey chili, diced onions and shredded cheddar cheese.
10) Lark Creek Grill – Terminal 2, D Gates, near Gate D1
Travelers with time should take a seat at Lark Creek Grill, an elegant, table service restaurant with a full bar serving seafood, hearty entrees and fine dining options, even for breakfast. It's certainly one of the most luxurious dining options, featuring a menu of upscale American fare that includes specialty burgers; sustainable fish dishes; huge, fresh salads; and more. Sandwiches range from the salmon sliders to the grilled pacific snapper to the crispy fried chicken breast and the pulled pork. Mains include the penne with a house-made tomato sauce, a grilled 10 oz. Angus steak and roasted salmon.
What to Get?
Everything is well made so you won't be disappointed. The Cobb Salad is a great choice if you're looking to be both indulgent and healthy at the same time. It features romaine, grilled chicken, bacon, egg, blue cheese, avocado and a house made ranch.
11) Cat Cora – Terminal 2, D Gates, near Gate D9
Iron Chef Cat Cora's upscale restaurant is another fine dining option with a full bar and diverse small plate menu. It has a nice loungy, laid-back vibe. Though it currently doesn't have its chilled seafood selection or oyster bar, it still is a great spot to enjoy a cocktail and bite. Tapas dishes include cheese plates, salads, and more.
What to get?
Definitely go for the decadent grilled cheese and spicy tomato soup. The gooey sandwich features white cheddar, gruyere, and caramelized onion and pairs delightfully with the rich, tangy tomato soup.
12). See's Candies – Terminal 3 F Gates, at entrance to Gates F11 through F22
And here's one more for you! Do not miss out on the iconic See's Candies. This chocolatier has been crafting indulgent candies and chocolates since 1921 and has a huge selection of over 100 types of chocolates, bonbons and seasonal treats to enjoy. You can buy by the piece or go all out and treat yourself to a customized box of handpicked delights.
By Chelsea Davis. Follow her on Instagram and check out her blog or more of her writing here.